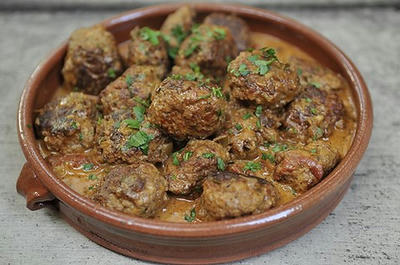 This recipe is a weekend project, best attempted with a friend. But believe us, after doing all the chopping and measuring, you will not be let down. Bogre's meatballs defy gravity, and the spicy sauce pulses with paprika, rosemary and mushrooms. A few tips: mix the pork and beef before adding the rest of the seasonings. Roll the meatballs as gently as possible. And make sure you temper the sour cream before blending it into the sauce. You do this by stirring a few spoonfuls of the hot sauce into the sour cream before adding this back to the remaining sauce.
Serves 20-30 meatballs, depending on size
For the meatballs
3/4 pound ground pork
3/4 pound ground beef (80/20 or 85/15)
1/4 pound pancetta, small dice
1/2 cup parmesean, grated
3/4 cup breadcrumbs
1/4 cup parsley, finely chopped
1 tablespoon garlic, minced
1 teaspoon (each) red pepper flakes, ground coriander, ground cumin, caraway seeds (crushed), kosher salt, and ground pepper
2 eggs, lightly beaten
2/3 cup whole milk
2 tablespoons olive oil
For the sauce
1 medium onion, chopped
1/4 pound cremini mushrooms, quartered
1 tablespoon garlic, minced
1 large banana pepper, chopped
1 tablespoon sweet Hungarian paprika (1 heaping tbsp)
1/2 teaspoon hot or half-sharp paprika
1/4 teaspoon smoked paprika
1 teaspoon porcini mushroom powder
1/4 teaspoon (each) dried rosemary, thyme, crushed fennel seeds, and marjoram
1/4 cup parsley, finely chopped
1/2 cup dry white wine
15 oz stewed tomatoes, chopped, with juices
2 cups chicken broth
1/2 cup sour cream
Preheat oven to 325 F. Lightly mix all ingredients for the meatballs except the olive oil together and form into balls 1-1 1/2 inches in diameter. (Depending on size, you should get between 20 and 30.) Allow time to refrigerate them so they firm up a bit.
In an oven-safe pan, brown the meatballs in olive oil on all sides. Remove to a plate, cover with foil, and set aside.
Add the chopped onion to the pan dripping and saute until starting to brown. Add mushroom and saute a few minutes more, until they start to brown as well. Add garlic and peppers and saute until fragrant, about 30 seconds, then add the paprikas, the porcini powder, and the rest of the herbs and spices. Cook, stirring, about a minute. Deglaze with wine. Cook until wine is mostly evaporated, then stir in tomatoes and their juices and the broth. Bring to a boil and return the meatballs to the pan.
Transfer the pan the oven and braise for 1 1/2 hours, stirring occasionally and luxuriating in the awesome aromas that should be enveloping your kitchen at this point.
When the braising time is up, remove the pan from the oven. Put the sour cream into a small bowl, then temper it by stirring in a few spoonfuls of the braising liquid. Stir the sour cream mixture back into the pan, coating the meatballs and heating through. Serve as an appetizer or with spaetzle or egg noodles for an entree.
PR