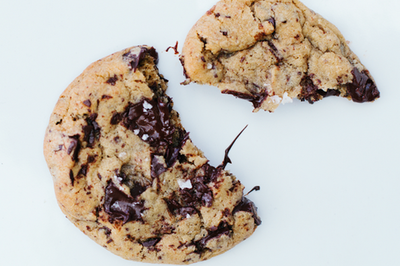 Author Notes: This is my classic cookie. It's what I crave and the reason that I often have butter coming to room temperature on the counter. The dough exists only to hold the chocolate in place. But without the chocolate, this dough makes a great base for any number of cookies: dried cherry, white chocolate and cardamom, chopped dates and walnut, or oatmeal and rum raisin (just replace some of the flour with oatmeal).
Use all three sugars; if you need cookies now and don't have turbinado sugar (also known as raw sugar), add more dark brown sugar.You'll miss out on a nice little sugary crunch, but the cookies will still be amazing. Don't skimp on the time you spend creaming the butter and sugar. As the sugar cuts through the butter to create bubbles, you build air and structure. Most people think baking soda and baking powder create bubbles in baking, but they only make existing bubbles bigger. So cream until the butter and sugar mixture is very pale and light, which takes a good 5 minutes with your electric mixer on medium speed.
There is a lot of chocolate, good dark chocolate, in this recipe. Chocolate chips work too, but they won't puddle and melt into chocolate layers. To cut down the cost a bit, I often use a combination of a great chocolate bar and chocolate chips.
Finally, don't over-bake.The oven temperature is an obnoxious 360° F so that an extra burst of heat sets the outside while the inside remains gooey. The end result is a crispy, gooey, and chewy cookie. Let the cookies cool on the tray for at least 5 minutes before transferring to a wire rack—any less than that and the cookie will most likely fall apart from all that chocolate and gooeyness. Oh goodness, it's time to start softening more butter.
The dough is best made a day or two before you plan to bake the cookies—their flavor and texture improves with time. Leftover dough can be rolled into a 2-inch-thick log, wrapped in parchment paper, and then refrigerated for 1 week or frozen for up to 1 month.You can also freeze the baked cookies, but I prefer to freeze the dough.
One final note: I always double this recipe. Just thought you should know.
Makes 18 to 24 cookies
1/2 cup (115 grams) unsalted butter, at room temperature
2 tablespoons granulated sugar
2 tablespoons turbinado sugar
3/4 cup plus 2 tablespoons (170 grams) packed dark brown sugar
1 egg, at room temperature
1 teaspoon vanilla extract
1 3/4 cups (250 grams) all-purpose flour
3/4 teaspoon baking soda
1/2 teaspoon kosher salt
6 ounces (170 grams) bittersweet chocolate (use the best-quality chocolate you can), cut into roughly 1?2-inch chunks with a serrated knife
Flaky salt, such as Maldon, for finishing
In a medium bowl, cream the butter and sugars together with an electric mixer on medium speed, until light in color and texture, 5 minutes. Scrape down the sides of the bowl with a rubber spatula as needed. Add the egg and vanilla and mix well to combine. Again, stop the machine and scrape down the bowl with a spatula.
In a medium bowl, whisk the flour, baking soda, and salt to combine.
With the mixer on low, slowly add the flour mixture. Mix until streaks of flour still run throughout. Add the chocolate and mix until everything just comes together. Finish mixing the dough by hand, taking care to scrape the sides and the bottom of the bowl to make sure everything is evenly distributed.
At this point, it is best to refrigerate the dough for 24 hours. Resting the dough intensifies the deep toffee flavors and improves the texture of the baked cookie.
When ready to bake, preheat the oven to 360° F. Line two baking sheets with parchment paper. Scoop the dough onto the baking sheets. Top the cookies with a pinch of flaky salt just before baking.
Bake for 10 to 12 minutes. Rotate the sheets halfway through if they appear to be baking unevenly. The cookies should be lightly golden on the outside but still look quite gooey on the inside. Let the cookies cool on the baking sheets for at least 5 minutes.
Transfer the cookies to a wire rack to finish cooling.
These are best eaten the day of baking but will keep, if well sealed, for up to 2 days.
PR