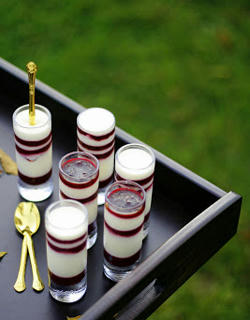 I remember when ever a recipe called for Crème Fraîche or Fromage Frais, I would just substitute it with fresh cream. For starters I didn't know the difference between the two and the other, where to source them. In India it's still impossible to find some, and in HK i didn't know where to look. Here in Ghana it wasn't available either just until recently. Thanks to my favourite supermarkets' imports from Europe, i get lucky sometimes. So when ever I see either of these or Mascarpone I pick up a couple of extra tubs, as I'm not sure when the new stocks will arrive. This also explains my recurring posts with mascarpone and Crème Fraîche :) It's very addicting this stuff I tell you, n after tasting the real thing I can't imagine how I used to settle for just fresh cream. It just doesn't measure up. I wouldn't dare do it now. So after a little bit of googling and personal experience i give you the difference between the two.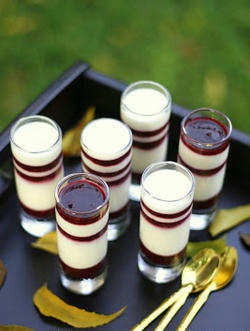 Crème fraîche has a thick, smooth and velvety texture. It is defined as heavy cream which has been cultured in order to give it a very thick consistency and also a slightly tangy flavour. It is also used as a substitute for sour cream at times. When it has matured, crème fraîche becomes heavily texture and has a nutty taste, which is slightly sour. This sour taste is a result of culturing pasteurized cream with a special species of bacteria. As the name suggests, it originated in France. In its country of origin, namely in France, it was not pasteurized and therefore contained the bacteria which was a necessary ingredient in the preparation of crème fraîche. The content of butterfat in crème fraîche is usually 30 per cent, but it is variable. <!–[if !vml]–><!–[endif]–>
Fromage Frais on the other hand originated from Belgium. The name literally means "fresh cheese". But unlike cheese, the curds are not allowed to solidify, but are stirred, giving fromage frais a texture similar to that of yogurt. Pure fromage frais is virtually fat free, but cream is frequently added to improve the flavour, which also increases the fat content, frequently up to as high as 8 percent.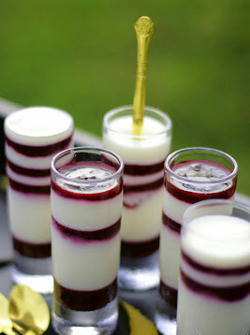 This dessert was made in a desperate effort to use the Crème fraîche which was lying around my fridge ever since the "Sunday Fiasco" time. I wasn't looking to make something elaborate with it, but something simple yet classy. Again using with what i had available at home I came up with this no fuss dessert. They are made from frozen mixed berries which are pureed with icing sugar, and Crème fraîche beaten lightly with some icing sugar and a gelatin mixture made from one 1 tsp gelatin and 2-3 tbsp warm milk. Simply prepare these two and pour them each in two different measuring cups. Gently pour into desired glasses and let it set. The berry layer does not have gelatin so it will not set whereas the Crème will. The contrast in the two textures is simply amazing in your mouth. The rich, smooth, creamy, velvety and very slightly tart Crème fraîche layer against the sweet n tart slightly textured berry layer which is bursting with flavour.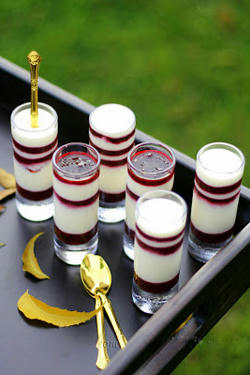 100 gms frozen mixed berries + 2 tbsp icing sugar + a splash of red grape juice- pureed, but not strained
250 gms Crème fraîche 30% fat content + 2 tbsp icing sugar
2-3 tbsp warm milk + 1 tsp gelatin powder, melted together above boiling water
Adjust the sugar to your taste. I didn't want it too sweet so this worked just fine. Also these make 6 shot glasses, so if you are using other glasses or molds u'll need to change the quantity. Chill them well before serving and can prepare them a day in advance if making them for entertaining.
PR